From Homer to Helen Keller, from
Dune
to Stevie Wonder, from the invention of braille to the science of echolocation, Dr. M. Leona Godin explores the fascinating history of blindness, interweaving it with her own story of gradually losing her sight, in her book
There Plant Eyes
. Educators are already finding that There Plant Eyes is a valuable addition to their syllabi:
"Teaching There Plant Eyes has been wonderful—students have called it 'paradigm-shifting' and their 'favorite book of the semester.' I can't recommend putting it on your syllabus highly enough, for its erudition, elegance, activism, and profound education about the relationship between disability and possibility." —Maggie Nelson, author of The Argonauts
"I've assigned There Plant Eyes as required reading for first-year writing seminars and advanced lecture courses on disability and the senses. Students from several backgrounds and majors in the sciences and humanities have described the book as both provocative and stylish. Godin's writing has been a source of critical analysis and inspiration. For instance, in a first-year writing seminar, students were tasked with closely revisiting one chapter after reading the book and creating a reverse outline with topical titles, themes, important events, and dates. They took this on as an exercise to understand her argument, how she changed their preconceived notions of disability and blindness, and even the kinds of additional information she included in her footnotes. In the upper-level lecture, students were asked to compare Godin's writing about the cultural history of blindness with deafness and analyze how 'blindness' further serves as a metaphor for pathology in 'color blindness' in nineteenth-century America. From speaking with Godin, students could further refine their understanding of the relationship between public and private uses of technology at different scales, from the city to the sidewalk to the home." —Lan A. Li, Assistant Professor in Medical Humanities, Rice University
"M. Leona Godin's There Plant Eyes brilliantly interweaves history and autoethnography in this study of blindness in Western culture and in her life, the personal narrative deepening readers' understanding of disability history. Students in my graduate seminar appreciated her position both inside and outside academia and were inspired by her use of disability studies as a lens for reading literature. They particularly enjoyed the fresh approach to canonical works such as Paradise Lost including the parallel exploration of the ways in which blind writers Milton and Godin go about doing their own work. There Plant Eyes actively brings theory into practice while maintaining cohesion and detailed analysis across a broad historical scope that ranges from the ancient Greeks to the contemporary world." —Professor Marla R. Carlson, Caroline Reid Ridlehuber Professor of Theatre Arts, University of Georgia
---
Additionally, Dr. M. Leona Godin is utilizing her own expertise on the history of blindness and teaching a new course at New York University during the Fall 2022 semester titled, "Blindness and Insight from King Lear to Jane Eyre."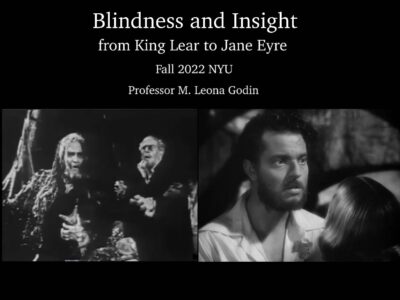 Read the course description:
"Out, vile jelly!" cries the villain Cornwall in Shakespeare's King Lear as he plucks the second of Gloucester's eyes, which provokes the gullible father's journey to understanding and insight. The trope of exchanging physical sight for spiritual sight draws on a long tradition from the legendary Homer and the tragedy of Oedipus to the Biblical blind man made to see. Blindness enters the Modern Era with renewed vigor as the microscope and telescope extend human vision into new realms and medical "miracles" offer "restored" sight. In this course we'll read literary, philosophical, and scientific  texts of the 17th through 19th centuries by authors including Shakespeare, Milton, Locke, Swift, and Brontë, alongside critical, theoretical, and autobiographical texts on blindness and disability by authors including Michel Foucault, Jacques Derrida, Jorge Luis Borges, Lennard Davis, and Rosemarie Garland-Thomson in an effort to investigate and interrogate the metanarrative of blindness.