Beaten Down, Worked Up
is a stirring and essential look at labor in America, poised as it is between the tumultuous struggles of the past and the vital, hopeful struggles ahead.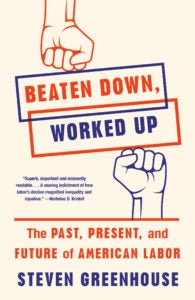 Award-winning journalist and author Steven Greenhouse guides us through the key episodes and trends in history that are essential to understanding some of our nation's most pressing problems, including increased income inequality, declining social mobility, and the concentration of political power in the hands of the wealthy few. He exposes the modern labor landscape with the stories of dozens of American workers, from GM employees to Uber drivers to underpaid school teachers. Greenhouse proposes concrete, feasible ways in which workers' collective power can be—and is
being—rekindled and reimagined in the twenty-first century.

"Superb, important and eminently readable. . . . A searing indictment of how labor's decline
magnified inequality and injustice in the U.S. Much recommended." —Nicholas D. Kristof, op-ed
columnist, The New York Times, and co-author of Tightrope
"An invaluable read for anyone interested in understanding one of the more shameful aspects
of America's status quo: the persistence of a working poor who, for the most part, work far harder
than the rest of us yet live in a state of perpetual economic uncertainty, if not outright destitution." —Sarah Carr, The Washington Post
Read an excerpt of Beaten Down, Worked Up here.
Steven Greenhouse discussing Beaten Down, Worked Up at Politics and Prose:
Read this op-ed in the New York Times by Steven Greenhouse about the GOP's relationship to labor unions.  
Beaten Down, Worked Up is the September pick for PBS NewsHour's "Now Read This" book club. Learn more here.  
Read this article by Steven Greenhouse in The American Prospect about anti-union progressives. 
Read this article in The New Republic by Steven Greenhouse about a well-funded Democratic group wooing former union members.