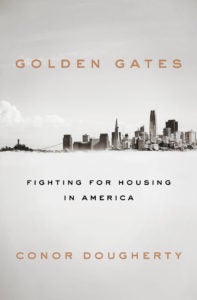 Spacious and affordable homes used to be the hallmark of American prosperity. Today, however, punishing rents and the increasingly prohibitive cost of ownership have turned housing into the foremost symbol of inequality and an economy gone wrong. Nowhere is this more visible than in the San Francisco Bay Area, where fleets of private buses ferry software engineers past the tarp-and-plywood shanties where the homeless make their homes.
in Golden Gates, journalist Conor Dougherty chronicles America's housing crisis from its West Coast epicenter.  Peeling back the decades of history and economic forces that brought us here, Dougherty takes readers inside the activist uprisings that have risen in tandem with housing costs.
To tell this new story of housing, Dougherty follows a struggling math teacher who builds a political movement dedicated to ending single-family-house neighborhoods. A teenage girl who leads her apartment complex against their rent-raising landlord. A nun who tries to outmaneuver private equity investors by amassing a multimillion-dollar portfolio of affordable homes. A suburban bureaucrat who roguishly embraces density in response to the threat of climate change. A developer who manufactures homeless housing on an assembly line.
In an excerpt in the New York Times, Dougherty tells the story of a contested development project in a wealthy suburb and the people who opposed and supported its construction.
"Nearly all of the biggest challenges in America are, at some level, a housing problem. Rising home costs are a major driver of segregation, inequality, and racial and generational wealth gaps. You can't talk about education or the shrinking middle class without talking about how much it costs to live near good schools and high-paying jobs. Transportation accounts for about a third of the nation's carbon dioxide emissions, so there's no serious plan for climate change that doesn't begin with a conversation about how to alter the urban landscape so that people can live closer to work."