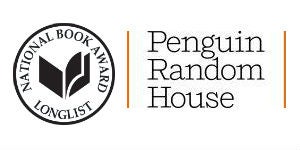 Congratulations to our Penguin Random House authors and their publishing teams who have been chosen by the respective category judges as "longlisted" semi-finalists–including five of the ten Fiction titles–for the 2018 National Book Awards.
Wednesday, October 10: The "shortlist" of five finalists per category will be announced.
Wednesday, November 14: The five winners will be revealed at the annual National Book Awards dinner.
Fiction:
GUN LOVE by Jennifer Clement (Hogarth/Crown Publishing Group, Random House Audio)
FLORIDA by Lauren Groff (Riverhead Book, Penguin Audio)
THE GREAT BELIEVERS by Rebecca Makkai (Viking Books, Penguin Audio)
THE FRIEND by Sigrid Nunez (Riverhead Books, Penguin Audio)
THERE THERE by Tommy Orange, (Alfred A. Knopf, Random House Audio)
Also longlisted: WHERE THE DEAD SIT TALKING by Brandon Hobson (published by PRHPS client Soho Press)
 Nonfiction:
DIRECTORATE S: The C.I.A. and America's Secret Wars in Afghanistan and Pakistan by Steve Coll (Penguin Press, Penguin Audio)
BROTHERS OF THE GUN: A Memoir of the Syrian War by Marwan Hisham and Molly Crabapple (One World/Random House, Random House Audio)
Poetry:
AMERICAN SONNETS FOR MY PAST AND FUTURE ASSASSIN by Terrance Hayes (Penguin Books)
MUSEUM OF THE AMERICAS by J. Michael Martinez (Penguin Books)
Translated Literature:
FLIGHTS by Olga Tokarczuk, Translated by Jennifer Croft (Riverhead Books, Penguin Audio)
AETHERIAL WORLDS by Tatyana Tolstaya, Translated by Anya Migdal (Alfred A. Knopf, Random House Audio)