Book bans have increased more than 1100% between 2020 and 2022.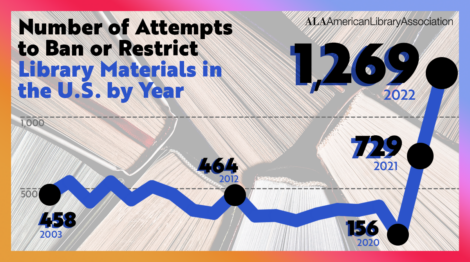 The American Library Association (ALA) has reported an unprecedented number of book bans and "documented 1,269 demands to censor library books and resources in 2022, the highest number of attempted book bans since ALA began compiling data about censorship in libraries more than 20 years ago."
PEN America and Penguin Random House have recently joined authors and parents in Escambia County, Florida, to file a federal lawsuit challenging removals and restrictions of books from school libraries and asking for them to be returned to library shelves.
The lawsuit asserts the Escambia County School Board violated the First Amendment by unlawfully restricting access to books. Florida has one of the highest rates of book removals and restrictions in the country, as researched by PEN America. Nearly 200 books have been targeted in the Escambia County School District in the past year. A substantial portion of the titles address LGBTQ+ themes and/or deal with issues of race or racism.
"Children in a democracy must not be taught that books are dangerous. The freedom to read is guaranteed by the constitution," said Suzanne Nossel, CEO of PEN America. "In Escambia County, state censors are spiriting books off shelves in a deliberate attempt to suppress diverse voices. In a nation built on free speech, this cannot stand. The law demands that the Escambia County School District put removed or restricted books back on library shelves where they belong."
"Books have the capacity to change lives for the better, and students in particular deserve equitable access to a wide range of perspectives. Censorship, in the form of book bans like those enacted by Escambia County, are a direct threat to democracy and our constitutional rights," said Nihar Malaviya, CEO of Penguin Random House.
Penguin Random House is committed to free expression and protecting the freedom to read. Books change lives for the better, and students deserve equitable access to a wide range of perspectives.
Additional Resources
Find Penguin Random House's Banned Books Resources Hub here.
CBS News segment "War on Words" gives background and information about book bans and censorship.
PEN America's new Index of School Book Bans provides a comprehensive list of books banned in the first half of the 2022-2023 school year here.
ALA's Top 13 Most Challenged Books list here.
You can read the PEN America news release here.