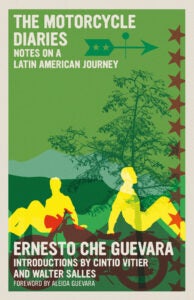 Seven Stories Press and The Center for Latin American, Caribbean, and Latinx Studies (CLACX) at Vanderbilt University have collaborated to create a bilingual curriculum guide for The Motorcycle Diaries by Ernesto Che Guevara, a popular title taught in introductory and intermediate Spanish-language courses. The guide also features discussion questions for the other eight initial titles in the Che Guevara Library, the new book publishing project from Seven Stories Press to reintroduce the great essays, journals, and diaries of Che Guevara and other essential works from Latin America in both English and Spanish editions. 
The teaching resource offers pre-reading activities, guiding questions, post-reading resources, a suggested student project, and an essay assignment, and is intended for use in upper-level high school Spanish classes  and intermediate to upper-level college Spanish courses. It was written by Elyssa Cross, a high school Spanish teacher in the Metro Nashville Public School system and Kai Gardner, who also has experience teaching Spanish in a secondary charter school, and is currently a student in the International Education Policy and Management program at Vanderbilt University and a graduate assistant at the Center for Latin American, Caribbean, and Latinx Studies.
"This partnership to create an educational resource for teachers and professors to use in high school and in higher education courses will bring the legacy of Che Guevara to a new audience of students," said Claire Kelley, Director of Academic and Library Marketing at Seven Stories Press. "We are thrilled to work with CLACX to utilize their pedagogical expertise in order to engage and assist educators who would like to adopt this new beautifully designed and repackaged collection of books for their classes."
The Center for Latin American, Caribbean, and Latinx Studies (CLACX) is a new research center at Vanderbilt University, created in Fall 2021 to bring together the former Center for Latin American Studies (CLAS) and the Program in Latino and Latina Studies (LATS). CLACX fosters research and teaching that examine the borders and intersections between Latinx, Latin American, and Caribbean Studies, enriching all through comparative and interdisciplinary perspectives.
"This new resource will enhance the use of the Che Guevara Library as an interdisciplinary tool in the classroom," said Colleen McCoy, CLACX Outreach Coordinator. "We look forward to sharing it with our educator networks."
CLACX is a National Resource Center on Latin America, designated by the US Department of Education. Alongside providing Title VI Foreign Language and Area Studies (FLAS) grants, NRC funding supports professional development workshops, summer institutes, and cultural arts events to engage K-16 educators and the community. This
 bilingual curriculum guide is part of that work to engage and to further the teaching of Latin American cultures, languages, and histories.
Download the guide here
View Ernesto Che Guevara titles
here