Carolyn Forché is being awarded the American Book Award for In the Lateness of the World, a tenebrous book of crossings, of migrations across oceans and borders but also between the present and the past, life and death. The world here seems to be steadily vanishing, but in the moments before the uncertain end, an illumination arrives and "there is nothing that cannot be seen."
"Forché's stately stanzas—her writing is never hurried—are the work of a literary reporter, Gloria Emerson as filtered through the eyes of Elizabeth Bishop or Grace Paley. Free of jingoism but not of moral gravity, Forché's work questions—when it does question—how to be or to become a thinking, caring, communicating adult. Taken together, Forché's five books of verse—the most recent, In the Lateness of the World, was published in March (2020)—are about action: memory as action, vision and writing as action. She asks us to consider the sometimes unrecognized, though always felt, ways in which power inserts itself into our lives and to think about how we can move forward with what we know. History—with its construction and its destruction—is at the heart of In the Lateness of the World . . . In [it] one feels the poet cresting a wave—a new wave that will crash onto new lands and unexplored territories."—Hilton Als, citation for the American Book Award
"In the Lateness of the World connects the threats to language's survival with the threats to the earth and global commons. 'They have cut off the water in the sinking metropolis,' the poem 'Water Crisis' begins, emphasizing a disconnect from the rich, who can afford to draw water with cisterns on their roofs, sending it 'singing through the pipes of the better houses.' Quiet then comes: 'It is like night. We are waiting to breathe again.' The poem goes on to describe the plight of gamecocks, 'forced to fight with knives taped to their feet,' drawing a connection between weaponized animals, reduced to entertainment, and the atrophy of language: 'The last cloud is empty. The first death reason enough.'"—Virginia Konchan, citation for the American Book Award
The American Book Awards were created to provide recognition for outstanding literary achievement from the entire spectrum of America's diverse literary community.
The 2021 American Book Award winners will be formally recognized on Sunday, September 19, 2021 online: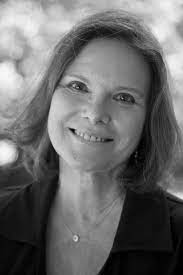 Carolyn Forché is an American poet, translator, and memoirist. Her books of poetry are Blue Hour, The Angel of History, The Country Between Us, and Gathering the Tribes. Her memoir, What You Have Heard Is True, was published by Penguin Press in 2019. In 2013, Forché received the Academy of American Poets Fellowship given for distinguished poetic achievement. In 2017, she became one of the first two poets to receive the Windham-Campbell Prize. She is a University Professor at Georgetown University. She lives in Maryland with her husband, photographer Harry Mattison.
Watch Carolyn Forché's 2020 FYE® Conference video on What You Have Heard Is True