In The Penguin Book of the Modern American Short Story, celebrated editor and anthologist, John Freeman showcases a curated selection of the best and most representative contemporary American short fiction from 1970 to 2020, including works by such authors as Ursula K. LeGuin, Toni Cade Bambara, Jhumpa Lahiri, Sandra Cisneros, and Ted Chiang.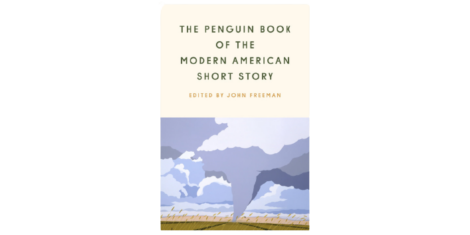 The Penguin Book of the Modern American Short Story
Table of Contents
Introduction by John Freeman
THE LESSON • Toni Cade Bambara, 1972
A CONVERSATION WITH MY FATHER • Grace Paley, 1972
THE ONES WHO WALK AWAY FROM OMELAS • Ursula K. Le Guin, 1973
BICYCLES, MUSCLES, CIGARETTES • Raymond Carver, 1973
THE FLOWERS • Alice Walker, 1973
GIRL • Jamaica Kincaid, 1978
THE RED CONVERTIBLE • Louise Erdrich, 1981
THE REENCOUNTER • Isaac Bashevis Singer, 1982
TAKING CARE • Joy Williams, 1982
STORY • Lydia Davis, 1983
CHINA • Charles Johnson, 1984
PET MILK • Stuart Dybek, 1984 
THE WAY WE LIVE NOW • Susan Sontag, 1986
SALVADOR LATE OR EARLY • Sandra Cisneros, 1986
THE THINGS THEY CARRIED • Tim O'Brien, 1986
RIVER OF NAMES • Dorothy Allison, 1988
EMERGENCY • Denis Johnson, 1991
STICKS • George Saunders, 1994
FIESTA, 1980 • Junot Díaz, 1996
SILENCE • Lucia Berlin, 1998
THE  TWENTY EVENTH MAN • Nathan Englander, 1998
BULLET IN THE BRAIN • Tobias Wolff, 1998
THE HERMIT'S STORY • Rick Bass, 1998
A TEMPORARY MATTER • Jhumpa Lahiri, 1998
THE PENTHOUSE • Andrew Holleran, 1999
THE FIX • Percival Everett, 1999 292 WATER CHILD • Edwidge Danticat, 2000
THE AMERICAN EMBASSY • Chimamanda Ngozi Adichie, 2003
THE CONDUCTOR • Aleksandar Hemon, 2005
ST. LUCY'S HOME FOR GIRLS RAISED BY WOLVES • Karen Russell, 2007
THE LAST THING WE NEED • Claire Vaye Watkins, 2010
THE PAPER MENAGERIE • Ken Liu, 2011
THE DUNE • Stephen King, 2011 
DIEM PERDIDI • Julie Otsuka, 2011
THE GREAT SILENCE • Ted Chiang, 2015
THE MIDNIGHT ZONE • Lauren Groff, 2016
ANYONE CAN DO IT • Manuel Muñoz, 2019
About the Contributors
Credits 
About the Book
In the past fifty years, the American short story has changed dramatically. New voices, forms, and mixtures of styles have brought this unique genre a thrilling burst of energy. The Penguin Book of the Modern American Short Story celebrates this avalanche of talent.
This rich anthology begins in 1970 and brings together a half century of powerful American short stories from all genres, including—for the first time in a collection of this scale—science fiction, horror, and fantasy, placing writers such as Ursula K. Le Guin, Ken Liu, and Stephen King next to some beloved greats of the literary form: Raymond Carver, Grace Paley, Chimamanda Ngozi Adichie, and Denis Johnson. Culling widely, John Freeman, the former editor of Granta and now editor of his own literary annual, brings forward some astonishing work to be regarded in a new light. This book will be a treasure trove for readers, writers, and teachers alike.